Welcome to my weekly round up of things that just don't fit anywhere else! It's been a few weeks since we've had one of these.
::A Little Pup-date::
Perhaps you were on Twitter yesterday and noticed my vague excited tweet:
[blackbirdpie url="http://twitter.com/TheKateSullivan/status/187918470313279488"]
In case you're not familiar with what I mean by that kind of scream, if you will be so kind as to fast forward this video to the 0:27 mark you will see an example of how I felt yesterday morning (but make sure to turn the volume down a bit first!):
Fortunately for my coworkers I did not actually scream like that but I really wanted to because yes, friends, I got the call saying our newest family member would be ready to come home NEXT WEEKEND. That means I have one more week of anxious waiting before I can go and bring home my sweet little puppy.
With any luck having a new family member will not send Latte into a blind rage of jealousies. This more than anything keeps me up nights.
::Wedding Pipe Dream::
I will confess I almost made an entire post dedicated to these kinds of videos. If I were lucky enough to have the kind of  wedding budget that would allow for it this is exactly the kind of keepsake I would want. I've drooled over these artsy wedding videos for years but just came across this one this week and fell in love all over again. I adore this one:
Andy & Jacki's Same Day Edit from David Perry on Vimeo.
I love David Perry's work. And if you've never been to an LDS wedding and waited for the bride and groom outside the temple it's very much like what you see above – the excitement is palpable. I may or may not have spent too much time watching the videos on his blog.
But my wedding video obsession started a few years ago with the group StillMotion and this trash the dress video:

Shootin' at the Slough – Cheryl + Andrew's TTD // Vancouver from stillmotion on Vimeo.
I never ever thought I would want a wedding video until I saw that one. So add that to my list of dreams that would be awesome but will probably never be reality. And in case you're new here, no, I'm not engaged.
::Hilarious Search Terms from this Week::
blinged out microphones, rate my dirty feet, only look good in certain mirrors, is sleeping in a room with no windows, kate sullivan undp (okay, what???), computer science jokes
::Best Gmail Moment of the Week::
I was writing an email to a friend and this is the list of ideas they came up with:
Thank you, Gmail, for that moment of awesome.
::Yes, I am Still About 12 Years Old::
Yesterday morning on my way to work I saw these two buses with "Bieber" clearly emblazoned across the back. For about 10 seconds I was really excited until I decided there was no way these had any relation to the tweeny pop star.
Sure didn't stop me from making a fool of myself with my cellphone camera though. It was for a friend!
::Catalog Living::
If you know me, you know I love that little site known as Catalog Living. It's a hilarious tumblr devoted entirely to poking fun at the silly things catalog stylists do.  Which is why I was really excited when I randomly got a catalog in the mail at work (very strange) and came across a perfect picture for captioning.
::Get Connected::
If you're looking to expand your follower base, here are a few great things I've seen going on in blogland lately.
The Instagram Blog Hop is the perfect way to expand your Instagram following, especially if you're new to Instagram (which is now available for Android, in case you weren't spammed with that message this week – sorry for adding to that noise!)
Also happening is the
Hollie Takes Notes Follow Friday Link Up
. This works best for blogger-based blogs because it's Google Friend Connect based.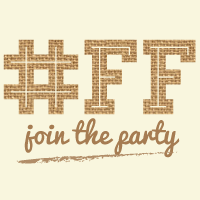 If you're here from that link up and wondering how to follow me since I don't get to have GFC anymore (yes, still bitter), I'd recommend becoming a Facebook fan but feedburner and Bloglovin are options too!
Finally, I want to put in another plug for Chelsea's Journey Forward link up. It's becoming my favorite part of the week and I have connected with some really amazing bloggers I would probably never have otherwise come across that way. Not to mention that it's always a good idea to have a layer of accountability and some dedicated time each week to thinking about how you're working toward your goals for the year.
It's not too late to join in!
Here's hoping you have a most excellent weekend!