Happy Friday!
Today I'll begin with a series of pictures that made my morning. These dogs are pure awesomeness. I just wanted them to sit together for a picture and they WILL NOT do it. Oh well.
And now in my bid for puppy parent of the year, I'm going to admit that Mocha is going through an awkward growing phase right now and Latte just might be cuter. At least this week. Next week is a haircut week so all bets are off.
This glare makes it look like he heard what I just said:
Oh, they light up my life. I adore them and I'm so glad to be home with them after being away for almost a full week.
This week my July Birchbox came and I am really, really happy with it.
Finally a product in a color that works for me! My first month they gave me blue glitter eyeliner, last month was that awful lip/cheek stain (which actually worked on my cheeks, but who wants to use gel coloring?) The lipgloss is a perfect neutral for me and has a great shine.
I haven't tried most of the other products yet but I popped the blotting linens and mints into my purse immediately. It's the perfect time of year for those blotters, right? This may be the first month where I will be using everything I got, even the headphones.
I did try the perfume this morning and I'm a little worried I smell like an old hippie because of the patchouli and rose combo – it's almost an old lady scent but the patchouli reminds me of a head shop.
I'm also not sold on the French used here. Granted, I've been out of grammar class for years, but in my mind "Vengeance Extreme," feels as awkward in French as it sounds in English and I think it's because of the BAGS rule (but please correct me if you know the answer!). In French, modifiers generally come AFTER the noun – so you're eating beans green instead of green beans. But this doesn't apply when it comes to Beauty, Age, Size, or Goodness  (you'll always be a pretty girl in France, never a girl pretty. Unless you're not a pretty girl, cause translating don't fix ugly). So wouldn't your extreme (size?) vengeance still be just that? And, sure, they could just be making stuff up cause they think it sounds cool but if that's the case isn't it still an awkward choice?
Something to think about.
Before my trip last week I finally dug around my office and cleared out my shoe collection. It literally filled a giant-sized shopping bag.
I haven't had the strength to put them away at home or even count them yet. I'm pretty sure this means I have a problem.
Anyway, here are the links I collected this week.
So you say you don't cook. I wanted to jump up and down while I was reading this and the reason I love it can be summarized neatly in one little quote: "The decision not to do something that is so essential to one's existence seems perverse to me."  Go ahead, throw your excuses at me. You're "too tired" or maybe you "literally do not have time" to put together a meal because you have 1001 obligations after work that will take up all your time. Whatever it is, I have to ask you – how can you let your life be so overwhelming and busy that you don't have time to do something so basic and essential as taking care of yourself? You have to eat – your life depends on it. Your health, happiness, financial stability, and those of your family and loved ones, also depend on what you eat – not because I think you need to the be one cooking for your husband+kids but because they are impacted by your health whether you like it or not. If mama ain't happy, right? I'm not even going to claim I am in the kitchen making every single one of my meals cause I'm a champion of excuses too – but this post definitely helped me see that choice in a different way. My decision to take shortcuts in the kitchen is cheating me of having the life I deserve. Don't let it cheat you too.
I am very big on clean lines and less clutter (in theory, in practice it's not as easy as all that) but seeing these pyrex collections made me seriously consider starting my own collection. Just for a second (just to see how it feels).
If you have never done a vlog before, I have to ask you what you're doing with your life. I am of the opinion that everyone needs to do it at least once. It's an awesome way to connect with your readers on a different level. Let's face it, blog readers are sort of voyeurs. And while I never believe anyone is obligated to let everyone into their lives on every level, I do think it's helpful to give your readers another peek into your world. Hearing and seeing someone talk is TOTALLY different from reading their words. And with that in mind I have the perfect opportunity for you brought to you by those same bloggers who demanded to know what was in our closets-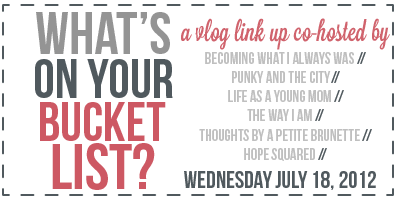 Join in and share what's on your bucket list! Or tell us why you don't have a bucket list! Or tell us we're stupid for vlogging! We'll love it! Just do it!
One thing I love about the Olympic season are the many inspiring stories that come out. We don't always get to hear the hard ones from the people who don't make it. For all the people we see winning and overcoming great odds, can you imagine how many more worked their hardest, fought with all they had, battled the impossible…and still didn't get there? It gives me chills – and makes me wonder if the definition of winning should maybe not include a gold medal but instead that personal understanding that you've given everything you can.
Finally, I have to admit that I cannot get enough of this song this week. The video is pretty over the top so maybe don't watch that and just listen to the song:
If this band had been around when I was 16 you'd better believe I would have been completely and irrationally obsessed. My inner teenage girl is dying over them as it is (also if you knew me at 16 you might be dying over the roses in the video if you remember my room in high school). Oh gosh. If my recent blog posts are any indication I must be going through a second adolescence or something.
But as always, I hope you have a fabulous weekend and I can't wait to spend mine catching up on all your blogs and doing some much needed relaxing!