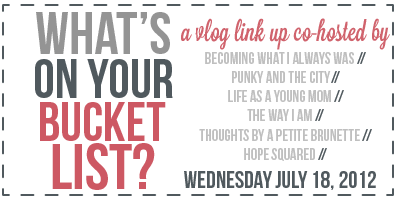 Today I'm linking up with a bunch of awesome bloggers to share what's on my bucket list! This is the same vlog linkup that brought you the "What's in your Closet?" linkup
Some notes:
There are 2 lies in this video. You will know them immediately. So these are 8 things from my bucket list.
There are no outtakes at the end of this video – they're in a separate video because this video is long already and there were just so many things that ended up needing to be cut.If you'd like to see them (they might be way better that my actual bucket list video) you can jump on over to my YouTube channel and ch-ch-ch-check em out! They'll be up, I promise, I just loaded the video this morning.
Speaking of LONG – if you can't watch the whole thing, fast forward to 5:40 and go from there. I counted down from 10 so that brings you to the top 2 things on my list.
(Spoiler alert: I really am sorry if I caused you heart failure or undue excitement)
I had a ton of fun making this vlog but I had to stop talking every 15 seconds because the pups were barking or carrying on. Eventually I just gave up so there are one or two little dog yaps in here.
It's hard to share things like this without thinking, "everyone else probably has cooler stuff on their list." And I think for the most part my list is pretty boring, if not totally predictable. I doubt you'll be adding stuff from my list to yours if it's not already on there – but my big dreams really are pretty simple. Of course I would love to do things like walk on the Great Wall and be in Paris for Fashion Week but those thoughts don't consume me like these do. Okay, maybe #5 doesn't consume my random daydreams either but it satisfies something deeper in me. And, of course, some of the things on my list are just private.
Don't forget to go on over to one of the host blogs and check out the other videos! Thanks to Emily, Jen, Miki, Jazmine, Kjerstin, and Justyn for putting this whole thing together!
If you didn't make it happen this time around, save the date for the next one! August 15!
What's something on YOUR bucket list?