And just like every Friday morning that has happened before, I am busy making my imaginary "To Do" list full of things I hope to accomplish this weekend. With any luck I will actually DO some of them and not end up just daydreaming about them!
But first…Stuff From All Over.
Yes, I sure did put that
feather wreath
around my head. I walked by it and thought, "why not?"
Today is the day of the Olympics I have waited for since it started. The only swimming race I really care about is the men's 50m freestyle. It's going to be exciting for a lot of reasons. It's a pure sprint – one length of the pool, no turns – just an all out, leave it all in the pool sprint. Y'all they DON'T EVEN BREATHE when they do this because there's not enough time. The whole thing takes like 20 seconds and you'd better believe I'll be there with my face pushed against the TV the whole time. I'll let you decide if that's cause I'm that invested in the race or if it's just because it's the closest I'll ever get to this guy.
I've been feeling ridiculously whiny and self-indulgent this week and I'm so ready to get myself out of this funk. I have dreams for this blog and I want to get them going this month! Yesterday, I had lunch with a friend who said, "you need to stop with all the suzy homemaker shit and just be more funny on your blog." Now I'm all about some people pleasing – and I get all sorts of requests with respect to what I blog and how often I blog and when I post my updates (not kidding, I got a call from an Arizona area code earlier this week and my first thought was "Oh no I forgot to blog and I bet this is Aunt Mary calling to demand a new post immediately") – but there's basically one thing I can say about me and being funny on this blog:
First World Problems I've Had This Week:
- I'm having serious difficulty narrowing down my Christmas decoration choices for this year but I have to do it because I will literally run out of space in my house, office, and apartment for all the things I want to make.
- The pool at my gym is closed for an entire month which means I'll be forced to use our neighborhood pool instead, or (get ready, this is awful) drive to a different gym location. Inconceivable. That pool better be in pristine condition when they finish their work.
- Photoshop has started crashing on me so frequently that I may just be forced to upgrade to the new version. I used to be able to just restart my computer and have it run just fine but now it won't even do that.
- I tried to start a tumblr this week and couldn't get past this stage:
Just kidding. I figured that out, but holy gosh, really?
- Whenever I go to the gym I have to stare at this poster of myself while I work out.
Life is HARD, people.
Links to Visit:
Do you have ghost lives that you think about? I sometimes think about what my life would have been like if I'd stayed in New York, or married that guy, or gone to medical school like I'd planned or made any number of different life decisions.
Is anyone out there using Viddy? It's kind of like Instagram, but for videos. I have been posting puppy videos there but it's kind of useless since I don't know anyone else who uses it.
These days I'm obsessed with photo editing apps (see above for my photoshop rant). This list of apps has most of the ones I use, but I found that list through Carly who posted a panoramic photo-taking app that looks really cool.
Torie made these awesome shoes and I want a pair real bad. Go tell her how much you love them and she might host a giveaway! Which you should then not enter because I want them.
Puppy Pictures:
I'm sorry to do a repeat from my Instagrams but I had to share cause it makes me so happy. In order, they are Latte, Phog, and Mocha. And yes, Latte is now the smallest.
This is blurry, but I was so proud of myself for catching him in the act:
He likes to drink the water after my showers. I will point out that he has his own bowl just a few feet from where he's standing. I will not point out that I was too lazy to replace the toilet paper.
But, so, yes. It's Friday, and I hope you enjoy it. Also, it's Follow Friday so head on over to link up with Hollie and pick out a few new best friends while you're there.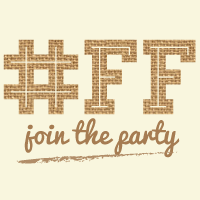 (If you're stopping by from the link up, I know I don't have GFC but you can follow me on Facebook, Twitter, or just do the good old fashioned RSS thing - and don't be shy, say hello!)
Happy Friday!!